Demolition & Concrete Cutting Services
Flat Sawing
Flat Saws are used to cut out trenches or damaged pieces of asphalt or slabs. They create a nice straight edge for contractors to pour or pave back to. We have the capability to saw to a depth of 24".
Electric Slab Sawing - Electric Slab Saws are used for inside cutting. We have saws small enough to take downstairs into a basement and saws big enough to ensure productivity in large commercial jobs.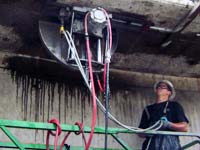 Wall Sawing
We use Wall Saws to sawcut doorways, window, HVAC penetrations or any other type of wall openings a contractor may need. We have methods to eliminate over-cuts in corners to create a clean-cut appearance. Our Wall Saws are able to cut flush with a slab or a vertical perpendicular wall surface. We have the capability to sawcut up to a 24-inch thick wall.
Egress Windows — We have operators working daily with homeowners and residential contractors to cut foundations walls for egress when creating living spaces in basements.
Access Openings—we also cut access openings into foundations to allow for access or ventilation.
Core Drilling
We work a lot with plumbing and electrical contractors to create round penetrations in walls and slabs so they are able to run their pipes or conduit through. We also work with utility contractors to core through manholes or vaults. We have all the bits required for Inserta Tee installation, so no special purchase necessary for our contractors. All of our trucks carry wide range of bits from 1" to 16" diameter on board, so if you need a slightly different sized hole when we arrive chances are we have it already. We also have the expertise to core up to 60" diameter hole if needed and core with accuracy as deep as 20, 30, 40 feet or more for those needing to core into monoliths.
Wire Sawing
Wire Saws are specialty tools that use diamond wire to sawcut large concrete monoliths too thick for conventional methods. Wire Saws also allow us to reach places without putting our operators in harm's way. They are an essential tool in our fleet enabling us to complete any size project.
Trip Hazard Grinding
Our grinders are designed to effectively remove trip hazards with 1-1/2" lip or less on neighborhood sidewalks or raised adjacent slabs. We also have electric grinders for indoor work.
Demolition
We frequently provide removal services for the concrete or asphalt that we cut. We can bring in dump trucks, drop boxes, mini-excavators, skid-steer loaders, fork lifts (shooting-boom or straight mast) or any other tool need to efficiently complete your project in a timely manner.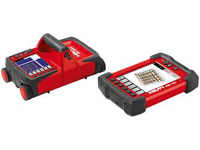 GPR (Ground Penetrating Radar)
GPR (Ground Penetrating Radar) is technology that allows the contractor to precisely locate reinforcing, electrical conduit, post tension cables, PVC pipes, and measure concrete slab thickness. The radar is much safer than x-rays and can be done in structures without disturbing the occupants..